BORDEN – The women who lead the regional distribution of Huber's Orchard & Winery wines have been recognized statewide for their work in expanding the reach of the business in Indiana.
Starlight Wine & Spirits, LLC is the recipient of the Indiana Economic Development Corporation (IEDC) Woman-Owned Small Business of the Year Award.
This distribution business was founded approximately 20 years ago by Dana Huber and Jan Huber, both of whom are part of the family that owns and operates Huber's Orchard & Winery in Borden. Dana is the wife of Ted Huber, president and co-owner of the winery, and Jan is the wife of Greg Huber, CEO and co-owner of the winery.
Starlight Wine & Spirits has approximately 60 customers and distributes Huber wines throughout the region, including Floyd, Clark, Harrison, Washington and Scott counties.
The company is one of nine in Indiana to receive an honor from the IEDC. The awards recognize companies that have worked with the Indiana Small Business Development Center, an IEDC program.
Jan said it was a "great feeling" to be recognized for his regional work in distributing Huber wine to local stores. She noted that it is "not always easy" for women to enter the alcohol industry.
"It's primarily and traditionally a male dominated area, but women are increasingly finding their way into the limelight," Jan said.
Jan emphasizes that the business is 'farm to fork' and 'farm to bottle'. For example, farm-grown strawberries that are sold in the Huber Farm Market and used in strawberry wine, and strawberry wine can be used in other products such as dessert wines or flavorings for spirits or distilled spirits.
She said Huber's is a multi-faceted and diverse business.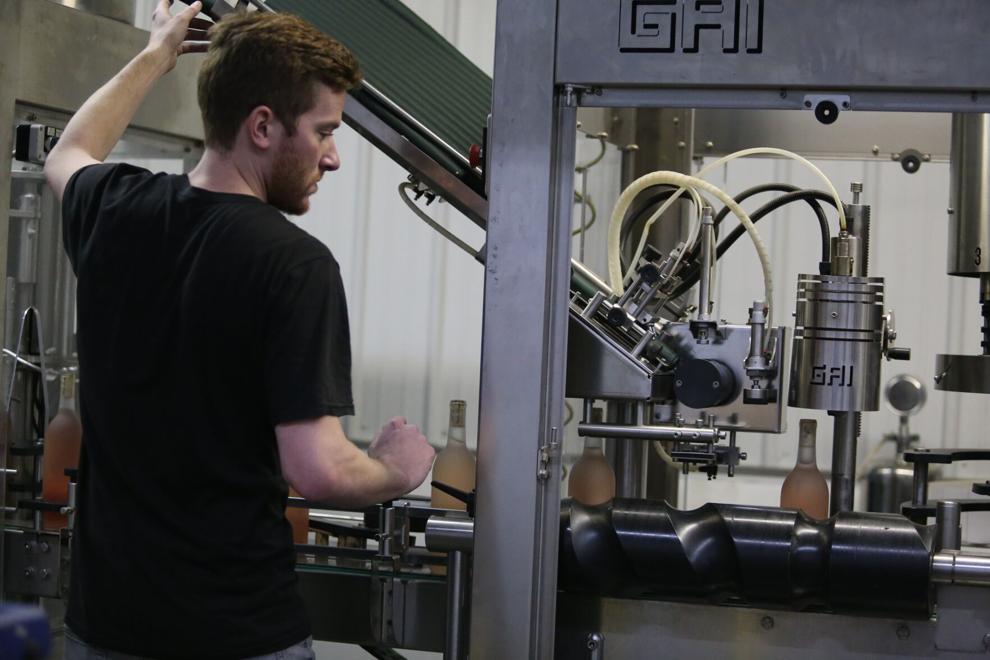 "It's rare that you see a company that grows the product, makes the product, bottles the product and then sells the product, and not only do we sell it, but we sell it in a number of ways," she said.
"We sell it here on the property as a destination, we sell through our Starlight Wine & Spirits to the local regional region to small businesses that may not be associated with a large distribution company, and then we also work with distribution companies not only here in Indiana but in Kentucky and many other states.
Huber's Orchard & Winery's Starlight Distillery offers artisanal spirits such as bourbon, vodka, and gin, but these distilled products cannot be distributed by Starlight Wine & Spirits, LLC, except for brandy due to law. state on alcohols.
However, Starlight Distillery products and wine may be distributed by other means. Starlight Wine & Spirits is often a starting point for small businesses in the area, but they can upgrade to a larger distributor to receive Huber products, including Republic National Distributing Company Indiana.
Huber's Orchard & Winery opened in 1978 and the company received its Distillery License and Craft Distillery License in the early 2000s. The company offers wines ranging from sweet to dry.
Pop's Reserve is one of Huber's signature wines, and it is only distributed by Starlight Wine & Spirits.
Dana is also vice president of distribution and public relations at Huber's. She said that Huber's approach to the distribution of its products has changed over the decades and that they have slowly and methodically developed regional distribution.
"For the first few years, we were just distributed very lightly in our accounts in southern Indiana and started a few accounts in Kentucky," she said.
They have received positive reviews as they have distributed wine and spirits to areas such as the East Coast, and Ohio has been a strong market as well, Dana said. She noted that the winery is also a destination for residents of other states.
"We have a lot of guests coming to our property," said Dana. "With more than 650,000 visitors in the past two years, many people are traveling to other states and destinations. I've seen great branding and recognition, but I think the real magic happens when they come to visit our 700 acre destination.
"It didn't happen overnight – it has happened over generations, and I'm just very happy to be a part of this very multigenerational family business," she said.
Dana said she and Jan were touched by the recognition of their work behind the scenes at the cellar.
"We have worked a lot with the Small Business Development Center over the past year, and they have opened our eyes to many opportunities with grants, funding and other angles that we can take advantage of in small businesses. companies and access the resources that are available to us, "she said. "It's an honor, and it's also great to be able to network and work with our state to move our business forward and advance some of these businesses that we own as we move forward in the generational business. "