News: Markets
April 7, 2022
According to TrendForce's "Global LED Industry Data Base and LED Player Movement Quarterly Update" report, the demand for high-quality LED products in the lighting market is entering a growth phase. Generally speaking, the price of LED lighting products is stable. However, due to the recent rise in world raw material prices, the unit price of products seems to have a tendency to increase. Coupled with strong demand for energy savings from governments around the world, the output value of the LED lighting market in 2022 is expected to grow 9.2% year-on-year to 8.11 billion. of dollars. In the coming years, the scale of the LED lighting market will continue to grow due to the promotion of human-centered lighting (HCL), smart lighting and other factors, and is expected to grow at a compound annual growth rate (CAGR) of 8.4% from 2021 to $11.1 billion in 2026, the report adds.
TrendForce further states that despite the continued impact of the COVID-19 pandemic in 2022, the ubiquity of vaccines and the revival of economic activity coupled with the rigid demand associated with the lighting market as a necessity daily, global "carbon neutrality", and the increasing demands of the energy conservation agenda, have driven many major powers to achieve net-zero emissions through measures such as energy efficiency and low-emission heating carbon in recent years.
However, lighting is one of the major energy consumers in buildings, accounting for 20-30% of total building energy consumption. The penetration of LEDs will therefore deepen, due to the high demand for energy savings and policies and regulations requiring the upgrading of aging equipment. In addition, intelligent lighting can also achieve the purpose of saving energy in a timely manner. Therefore, there is a strong demand for the introduction of LED lighting and smart lighting upgrades in commercial lighting, residential lighting, outdoor lighting and industrial lighting, which is boosting further the demand for high-quality LED products, including high luminous efficiency, high color rendering and color saturation. , low blue light human centric lighting and smart lighting devices.
The gradual recovery of the lighting market is clearly reflected in the 2021 manufacturer revenue rankings. Manufacturers of lighting LEDs including Samsung LED, ams OSRAM, Cree LED, Lumileds, Seoul Semiconductor, MLS and Lightning all reported revenue growth. MLS is still the leading manufacturer of LED lighting, ranked first in terms of revenue, with an annual revenue growth rate of 34% in 2021. ams OSRAM, Lumileds, Cree LED and Samsung LED mainly benefited industrial, outdoor and horticultural lighting orders in the past year, posting annual revenue growth of 26%, 18% and 8%, respectively.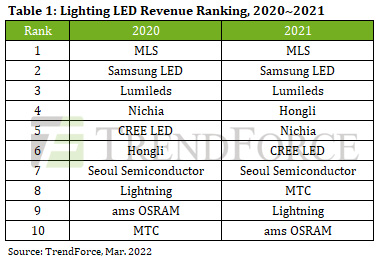 In terms of price, while demand in the lighting industry has gradually recovered in 2021, driven by demand for higher specification end-use products and the impact of rising overall costs raw materials and operations, LED packaging factories no longer adopted pricing strategies to gain additional market share, allowing LED lighting product prices to stabilize and rebound in 2021.
In terms of product categories, the average market price of medium and low power LED lighting products (less than 1W, excluding 1W) such as 2835 LEDs, 3030 LEDs and 5630 LEDs, showed a annual growth of 2.1 to 4.4%. For high-power LED lighting products (above 1W) such as ceramic substrate LEDs and 7070 LEDs, the average annual market price growth has reached 3-6%. TrendForce expects LED lighting prices to stabilize further in the first half of 2022.
Key words: lighting market
To visit: www.trendforce.com