Views) :
"Export or perish". Never has this economic advice been more relevant and appropriate in Sri Lanka than it is today.
Challenging environment
Amid the spread of COVID-19 and prolonged lockdown, the government is doing its best to ensure the country's export capacity is not hampered. However, sustainable export growth requires a change of mindset that will adopt economic reforms that will improve the competitiveness of exports.
COVID restrictions
The need to ensure that the country's export growth is not hampered by the spread of COVID-19 and the restrictions imposed by lockdowns and travel is self-evident. Since it is vital that production is not hampered by existing conditions, it is imperative that trade policies be reformed to encourage and provide incentives for sustained export growth. The plethora of challenges and barriers to export growth need to be addressed.
Importance of exports
Export growth has assumed particular importance due to the country's low reserve level, external debt repayments, increased import spending and negligible tourism receipts.
Indeed, even with a satisfactory performance of exports, it would be difficult to meet current foreign exchange needs. While foreign aid is vital to deal with the current economic difficulties, economic reforms are needed to develop an export competitive economy.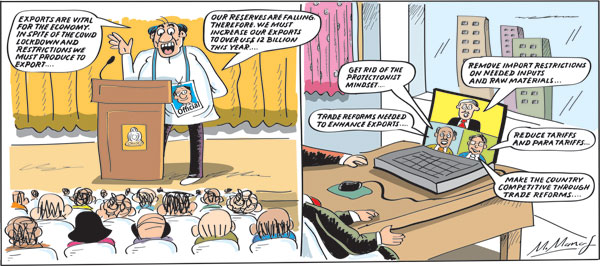 Containing COVID
As international experience has shown, containing COVID is extremely difficult. In addition, it requires a large amount of foreign spending on medical equipment and vaccines.
Import expenses
Sri Lanka can hardly meet its essential import expenses. Foreign exchange reserves have fallen to dangerously below $ 3 billion. Additionally, COVID reduces economic output.
Export manufactured products
This is especially true when it comes to the danger of COVID controls restricting manufactured goods for export. The loss of production in economic activities implies the loss of jobs and income. This has already happened and unemployment and poverty have increased dramatically.
Developed countries can afford to close their economies to some extent and secure the livelihoods of their people by providing income support for livelihoods. They could also forgo the production of goods and services because they have financial resources and foreign currency reserves.
Sri Lanka's economy
The Sri Lankan economy does not have these resources. Public finances are in a precarious state, with all revenues absorbed by debt service and civil servants' salaries and foreign exchange reserves are at an all-time low of around $ 3 billion.
Confinement
The perilous state of the Sri Lankan economy makes containment a danger to the livelihoods of the people and the stability of the economy. The fragility of the country's foreign exchange reserves makes it appropriate to ensure the production of the country's exports.
Critical issue
The critical issue is that the lockdown to contain COVID must not jeopardize vital economic activities such as export production. Hence confinement while "essential economic activities" were authorized. These included export manufacturers and suppliers of essential items such as food, medicine, and services such as banking. Only time will tell if such a lockdown will contain COVID-19.
Threats
The threats to the country's export growth do not come only from COVID. The challenges posed by COVID will disappear over time. However, the range of disincentives and challenges facing exporters needs to be addressed.
This concerns in particular the possible withdrawal of the SPG plus concession. The government must understand and understand that its withdrawal will result in serious dissuasive disadvantages for several categories of exports. These include clothing, sea fish, ceramics and other industrial exports.
Diplomacy
The cavalier manner in which this issue has been handled is disappointing. More conciliatory and diplomatic approaches are needed to resolve this threat.
First, the many loopholes in the WTO agreements must be corrected. This includes the need to inform the WTO of import policies and obtain authorization for their waiver. A more conciliatory approach to human rights issues rather than new violations is needed to convince the international community of the country's respect for human rights.
Import policies
In addition to breaches of WTO regulations, current import controls pose serious challenges. There are shortages of raw materials and inputs and uncertainties about their availability and rising costs. There is an urgent need to reform trade policies.
Performance
Despite the harsh environment, luckily or fortuitously, export manufacturing has shown strong resilience amid the harsh conditions of the spread of COVID and lockdowns across the country. Exports increased in the first half of the year, and during the months of June and July of this year, exports reached one billion US dollars.
Longer view
Sri Lanka has been, is and will be an import-export economy. Like other small countries, our survival and prosperity depend on the growth of our exports. This in turn requires economic policies conducive to making the country's economic environment and policies conducive to export competitiveness.
The first step is a change of mentality according to which the economic future of the country lies in the substitution of imports. There must be significant economic and trade reforms to make the country's exports internationally competitive.
Trade policy reform
The rationale for trade reforms appears to be poorly understood. In fact, even the economic truism that exports and imports are two sides of the same coin is hardly understood by well-meaning policymakers. They are also blind to the fact that successful exporting countries apply the least tariffs on imports. Singapore is the best example.
Recapitulation
Increased exports are imperative. At best, the country's export performance is vital to the external finances, employment, income and livelihoods of a significant proportion of the population. In the current economic crisis, when reserves are less than three billion dollars, the economy cannot support a growing trade deficit.
In addition, reducing imports is not achievable. In fact, import restrictions have negatively affected exports, as exports have a high import content.
While containment of COVID is a necessary condition, it is not sufficient. Where possible, restrictions and blockages related to COVID should not hamper the production of export products. That alone would not be enough. Trade policies must promote the expansion of exports.
Import restrictions should not deprive the import of raw materials for the industry as appears to be the case at present. High direct and indirect tariffs or para-tariffs should not increase the costs of imported raw materials, which would increase the costs of manufactured products and reduce their international competitiveness.
Last word
Export growth requires a whole series of policies that would ensure competitiveness in terms of price and quality in international markets. Ensuring the least disruption to the industry through current COVID restrictions alone will not be enough.